Follow @sh_digest

Be the first in your friends to like it
WARNING: Certified Ass Clown Alert!!!
Certified Ass Clown of The Week is……DovCharney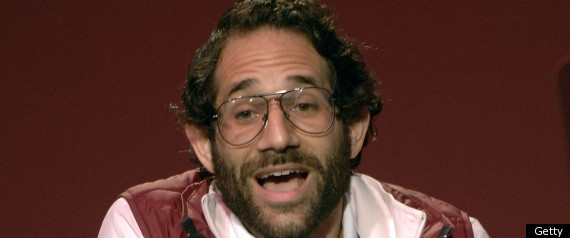 Four more former American Apparel employees have filed a lawsuit against CEO Dov Charney, the New York Times reports.
Kimbra Lo, Alyssa Ferguson, Marissa Wilson and Tesa Lubans-Dehaven are all named in the Los Angeles Superior Court documents — although only Lo's complaint has been made public. The 19-year-old says she visited Charney's home last December, seven months after she quit her job as an American Apparel sales associate, to talk about being rehired as a model and photographer.
Ms. Lo claimed that Mr. Charney, wrapped in a towel, invited her to his bedroom to talk about a job. Once there, she said he undressed her and tried to have sex. Ms. Lo said she sought to resist but was afraid, and that he tried to take photographs.[...]

Ms. Lo said that after the December meeting she called her mother who, in turn, called Mr. Charney and "demanded he never contact her daughter again." Ms. Lo said she contacted Mr. Charney to demand an apology.
Charney's lawyer Peter Schey told the Times, "The allegations are false. I think this is an effort to shake down American Apparel."
If so, it's quite the elaborate, and coincidental, effort.
Earlier this month, another former American Apparel employee, Irene Morales, filed a $250 lawsuit in Brooklyn Supreme Court after "enduring eight anguished months of forced sex," according to the New York Daily News. Morales appeared on "The Today Show" to talk about the circumstances, explaining "I thought it was almost normal. I thought everyone in the retail or fashion industry had to go through something similar to that. But I didn't think anything else of it."
But the most disturbing bits from the "Today" segment were from Charney's sworn depositions from previous sexual harassment suits against him, none of which went to trial. In his own words: "I frequently drop my pants to show people my new product," and "There's some of us that love sluts. It could be also an endearing term."
Dov Charney LOVES Teenagers
Pretend for a second that you're in charge of American Apparel, a global company that sells clothes to impressionable young follower types that can't think for themselves. Now let's pretend that your name is Dov Charney and you've been accused of turning one of your teenaged employees into your "sex slave" for a few hours. Allegedly.
Charney, who demanded Irene Morales, now 20, come to his Manhattan apartment when she turned 18, answered the door in his underwear, dragged her inside and forced her to her knees so she could pleasure him, according to the lawsuit, which demands a staggering $250,000,000.

"Then he dragged her to the bedroom, threw her on the bed, got on top of her and forced her to perform another act of fellatio, nearly suffocating her in the process," the suit alleges.

Morales was then essentially "held prisoner" in the apartment for several hours during which time he forced her to perform additional sexual acts, according to the lawsuit filed in Brooklyn Supreme Court.
So what do you think would be the best way to convince a judge, or jury overseeing the $250 MILLION dollar lawsuit against you that she's just after a big payday?
Despite being accused of sexually harassing minors on multiple occasions, (ED: plus all that stuff up there) American Apparel CEO Dov Charney doesn't seem to be a man who has any intentions of backing down from controversy. The clothing company, often under fire for using very young models in very suggestive poses, is now advertising a t-shirt bearing the slogan "Teenagers Do It Better."
And if all of that isn't creepy enough, why not do it in collaboration with Ey!Magateen whatever that is, because pretty much NSFW 16-21 year old boys responding to a "not so standard Q&A"  is completely normal.
All I know is I keep attempting the whole sex slave thing and it never seems to work out. I always find myself back on the street with nothing but bus fare and a poor quality t-shirt for all my trouble.
via [YouTube]
Investors Flee as American Apparel Teeters
By Hamilton Nolan American Apparel's stock plunged 27 percent today after the company's long-delayed second quarter financial results revealed falling sales and dim prospects for improvement. Is bankruptcy on the horizon?The company's press release this morning—preliminary results only, thanks in part to the recent resignation of their accountants—revealed that debt was up nearly $30 million in the past quarter, and same-store sales were down 16%. It spells DOOM, okay? Go, WSJ:
The casual-clothing manufacturer and retailer said it is in talks with lenders to amend its credit pacts, as it is at risk of falling out of compliance with its debt covenants by the end of next month. Based on first-half results and projections for the rest of 2010, it said it doesn't expect to have sufficient liquidity the next 12 months, raising doubts about its ability to continue as a going concern.
We hear there was an AA conference call this afternoon, which must have been interesting. If you listened and want to share what was said, email me.
Banned in the UK
Ho hum, the UK Advertising Standards Authority has banned an American Apparel ad that ran in Vice magazine for being too much like child pron. Can you imagine anything more cliché? t'd appear as though the British press have now discovered the distinct charms of American Apparel founder Dov Charney. The Daily Mail published a fire and brimstone write-around for mass Brit Tabloid Consumption on Donger Dov's unique business practices.British kids are no different than their American counterparts, right? They love to rebel! And there's no better your-kids-are-in-danger threat than the predatory nature of an American perv. What it represents is far more interesting than the story itself, though: the label's impact on British culture, a full fear profile being the peak of it. As in, this guy is after your kids, be scared. The headline says it all:
Dark side of fashion: The sleazy sexual predator behind High Street store American Apparel
In fact, Barbara Davies' piece is merely a collection of the various complaints and lawsuits that've been filed against Charney over the years here. He's a perv. He's a Canadian, 40, unmarried, no kids. He's a perv. He's had lawsuits filed against him. He's a perv. He's even said terrible things! The best is the Daily Mail's completely lackluster attempt to conceal this as anything other than a strongly worded editorial:
'I frequently drop my pants to show people my new product,' he told Fink in a legal deposition seen by the Mail this week.
So, the Mail learned how to use Google? Behind all of this intrepid reporting, however, is the subtle underlying message that Dov Charney will turn your children into nymphomaniacal Pantone-shirted perverts who will catch diseases like Pokemon in exchange for a pair of leggings and a shot to sleep with this grimy 40 year-old Jewish guy. Not that Dov Charney isn't a complete pervert—he is—and not that American Apparel's message of being a socially responsible company is complete bullshit in the face of Dov's "sexually liberated" practices—it is—but, really?
The Dov Charney Is The Boogieman story is new, and terrifying! If you're really worried about your fifteen year-old kids becoming rapists, focus on their generic-looking t-shirts sold to them by sexually charged advertising conceived by a Jewish guy perpetually slothing through an eternal midlife crisis. Scary. Burn him.
Is there anything ethical about his tawdry advertisements that perpetuate a highly sexualised image of young women in a society facing soaring rates of teen pregnancies and underage sex.
No, not really. Make no mistake, Charney's a gross pervert, but worse than exploiting the sexual insecurites of your kids—which you don't know about—his ads are sexy. Then again, if you want to lead ethics by example, play into the insecurities of your readership's parenting abilities by finding something (rock and roll, weed, skateboards, MySpace) that are surefire indicators of society's conspiracy to completely molest your teens' moral fortitude, brains, and genitalia, and pass it off as news. That'll show 'em.
American Apparel
We Predict More Lawsuits in Dov Charney's Future

Here's a shocker: According to a tipster, American Apparel's pervy madman CEO, Dov Charney, is demanding the firing of employees he deems unattractive and thus detrimental to the "AA aesthetic," as he feels they may be hurting his bottom line.Here's the text of an email we received tonight from a pissed-off American Apparel store manager:
Our company holds weekly conference calls that every store manager world/nation wide are required to tune into. We discuss sales, which stores need displays, which items are doing well, etc.

Summer is supposed to be a great sales season for AA. Needless to say, with the state of the economy, sales haven't been going so well. Dov usually gets on the conference calls and talks to people, but one week, he went on a huge tirade and made stores that weren't doing well send in group photos. Why, you ask? He made store managers across the country take group photos of their employees so that he could personally judge people based on looks. He is tightening the AA 'aesthetic,' and anyone that he deems not good-looking enough to work there, is encouraged to be fired. This is blatant discrimination based on looks.

Dov personally judged each person in group photos that were sent in, and if you weren't to his liking, then boy… watch out. The comments that he made were raging from childish ones to insulting ones. Managers that don't comply with these new standards are afraid of losing their jobs. Employees who aren't up to Dov's "look" and whose work ethic is "just ok" are being targeted and scrutinized and the minute they make small mistakes, they are being fired. But it's only because Dov wants to weed out the "ugly people." It's ironic that he would rather have gorgeous slackers who don't move the product [or lift a finger] working there than normal looking people who are really aren't that bad looking, but are A+ sellers and great at customer service. The real irony here is that he is no [looker], himself. He's asking for a class-action lawsuit and i hope that when it rains, it rains hard. Worst place to work, ever. This is happening at many stores across the country.
Yep, this all sounds like par for the proverbial course for Dov Charney and American Apparel. Let the lawsuits begin!
Pacing American Apparel CEO and full-grown adult Dov Charney is denying our tipster's report that he's been purging his stores of "ugly" employees. But hey, would it kill you ugly people to be fashionable, at least?
Dov gave the Globe and Mail this less-than-scathing denial:
As for Mr. Charney, he wrote in an e-mail that he does want his employees to look good – but that doesn't mean they have to be good-looking.

"At American Apparel, we strive to hire salespeople who have an enthusiasm for fashion and retail and who themselves have good fashion sense," he said. "But this does not necessarily mean they have to be physically attractive."
So if you're ugly, at least wear something that shows off your ass.
[Pic: Getty]
Gawker
American Apparel 33% Illegal
Because Dov Charney is a hero to immigrants, The Man is all up in his business, trying to point out nitpicky technical "violations," like the fact that 1,800 of his employees are illegal. Jeez.
Immigrations and Customs did an inspection of American Apparel's LA factories in January, and now comes news that they found that fully one-third of the employees there can't legally work in the USA. Luckily for the company, these were apparently their least productive workers, because they won't be missed a bit:
American Apparel, which is based in Los Angeles, said that if the employees aren't able to provide proper documentation, they will be forced to leave the company. It said losing the affected employees wouldn't have a material effect on its business.
American Apparel: providing a haven for terribly unproductive workers of all nationalities.
[Dov Charney is good on this issue but dude how can you make all that ruckus and not expect to get raided? Excessive pron, that's how.] 
Gawker
Dov Charney's Tear-Stained Letter to His 1,500 Laid-off Employees
Weepy, yes. But oh well. This is definitely Dov Charney's best side. Click to enlarge:
Woody Allen and Dov Charney Accuse Each Other of Acting Like Each Other
Nobody would be surprised if skeevy American Apparel boss Dov Charney and nebbishy, schoolgirl-stroking Woody Allen turned out to be the same person. So naturally they're in court, accusing each other of the same things.
Woody wants $10 million because American Apparel ripped off his visage for a billboard. People will think he's a perv, like Dov! American Apparel responds: you're not worth $10 million. You're a perv!
"We believe that Mr. Allen's popularity has decreased significantly, especially in light of the scandals he's been associated with," American Apparel lawyer Stuart Slotnick told The Post…

"The term 'sex scandal' shall mean . . . your relationship with Soon-Yi Previn including the discovery and public reports thereof, the nude pictures you took of Soon-Yi Previn, and your marriage to Soon-Yi Previn," Charney's lawyers wrote.
A huge portion of his adult life is defined as a "sex scandal." Just like Dov! American Apparel is right in noting that there's no way Woody Allen could get $10 million for his endorsement from anyone. He'd endorse, what…Viagra? Glasses? It's not happening. His name has been far less prominent lately even in the ads for his own movies. It's a shame that Dov and Woody, two soul brothers, have to be fighting like this. Can't they just kiss and make out? [NYP]
American Apparel Caves to Woody Allen
Dov Charney and Co.'s entire strategy for this trial was to say, hey, Woody Allen didn't lose $10 million being associated with our pervy brand, because he was already a perv. Then they posed and postured like they were going to turn the trial into a parade of Woody's Greatest Perv Hits, making it so painful for him that he'd wish he never sued them.
That was a bluff. Everybody knows Woody Allen's shit already. So they paid him half. Fair is fair. But where's your scrappy sense of tabloid sensationalism, Dov? We all knew you'd lose, but now you also lost a shitload of free PR. And who's going to pay Woody for this?
UPDATE: Full statement from Dov Charney here. Including, heh:
In his deposition, Mr. Allen said that he had never heard of American Apparel or me prior to the billboard. I believe that if Mr. Allen became more familiar with the company, he might appreciate some aspects of American Apparel specifically our commitment to creativity.
American Apparel Doesn't Want "Trashy" Black Women and Relaxed Hair?
via [Rippdemup] and [Clutch Magazine]
I have always found American Apparel to be ultra trashy clothing.  I haven't even been able to buy a single piece just because whenever I got to the website, I feel like I'm actually surfing the web for porn; and, I'm assaulted by emaciated looking women; women who look like they've just done a line in the bathroom, or drugged with Rohypnol.
Now American Apparel is no stranger to controversy.  It usually stems from their trashy images, but this time they are in some hot water for being
materialistic douche bags
.  What I found most interesting about the post was this:
Another former AA manager says that she received the following instructions as to what kind of black girls she should try to hire during the company's open calls:
"none of the trashy kind that come in, we don't want that. we're not trying to sell our clothes to them. try to find some of these classy black girls, with nice hair, you know?"

i will remember that forever, especially the "nice hair" part. he was instructing another manager and i on who to look for during an upcoming open call, and i sat there dumbfounded, listening to him speak while the other manager made "uh huh, got it" sounds on her end of the phone. the other manager on the call with me later became a district manager, and at one point instructed me to tell two of my employees (both of whom happened to be black females) to stop straightening their hair. i refused to do this, but wondered if the mentality behind her request was related to what dov had said.
If you're asking yourself if they asked them to stop straightening their hair (and most likely go and stay natural), don't  You read that correctly.
I am not surprised by this.  American Apparel's CEO Dov Charney is a little pervert who is living out his teenage revenge fantasies to screw impressionable, and quite thirsty, chicks who want to model.   I'm also not surprised that a fashion establishment has an issue with black consumers.  We know the game.  What I am totally surprised at is the possible implication, for once in all my 28 years of life, that natural hair is nice hair…

Back in 2009, I did a post on sisters with natural hair appearing to be everywhere in media (ie commercials, billboards, magazine ads, etc.). I wondered then if this was a message to black women that perhaps the relaxed hair carried a stigma that companies no longer wanted to have attached to their brand.
I guess I appreciate the intention, but fuck the attack on black women.  This is just trashy.  It completely negates the positive message that natural hair is desirable because it's natural. How can we overlook the connotation that trashy could possibly equal relaxed, weaved up, etc.?  Especially considering the idea that straight hair being "professional" is something that white corporations put forth?
"We are no longer threatened, black women.  You can wear your natural hair now!"
Either way, I would like to see more and more companies encourage natural hair.  I wonder why black women with natural hair seem to be at the forefront of advertising as well.  I think it has a lot to do with exoticism, but something organic.  Perhaps they think it adds a certain authenticity to the product?
I have a feeling that more black women would go natural if they felt comfortable doing so, and without fear of losing their jobs.  Unfortunately, American Apparel is too shitty of a company to do it right…
P.S. I am SO glad I never bought shit from them…
The next time you're in need of another pair of leggings, think twice before you go to American Apparel. The company's discriminate hiring policies could fill your socks drawer.
Former employees wrote to Gawker giving us more reason to give the 'all-American' brand our fiercest side eye.
An American Apparel ex-manager was given specific instructions on the type of Black girl the company looks for during open casting calls:
"None of the trashy kind that come in, we don't want that. we're not trying to sell our clothes to them. Try to find some of these classy black girls, with nice hair, you know?"
For you natural hair undergrads looking to rock seemingly cool clothing for the coveted retail employee discount, it seems, surprisingly, American Apparel is looking for you.
"The other manager on the call with me later became a district manager, and at one point instructed me to tell two of my employees (both of whom happened to be black females) to stop straightening their hair. I refused to do this, but wondered if the mentality behind her request was related to what Dov had said."
"Dov" is Dov Charney, the company's eccentric owner and the mastermind behind the brand's frequent soft porn ads. Seems Dov considers an afro 'nice hair,' and straight hair bad hair. This is a fascinating paradox for anyone remotely familiar with Black hair politics. A preference for natural hair could be considered progressive, but discriminating based on an employee's hairstyle, or any other trait is never cool.
For more on American Apparel's bizarre hiring practices, check out Gawker.
What do you think about the brand's employee preferences? Share your thoughts with us!
Sponsored By:
#Gawker, #HuffPost and #NewYorkPost, #AmericanApparel, #DovCharney,#creepyboss, #sexualharassment, #lawsuits, #AmericanPervert, #perverts, #sluttyads, #hipsterfashions. #TeenIdols, #SmellsLikeTeenSpirit, #FuturePrisonBitch, #SexualPredator.#SexOffender, #Rapist, #Pedophile, #cheapshoddyclothes